1 February 2012
Healthy Breakfast Foods
Posted by Wellness under: Nutrition .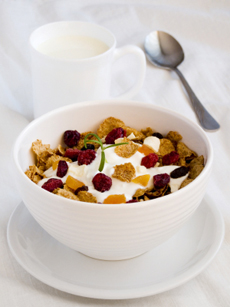 If you're one of those people who like eating breakfast for lunch and dinner, you're in luck: your favourite meal happens to be the most important one of the day, and potentially the healthiest. Unfortunately, we're not talking about bacon, fried eggs and pancakes–it's more along the lines of cereal, fruit, and protein shakes. But no worries: breakfast is a pretty versatile meal, and chances are your favourite foods can fit perfectly into a healthy breakfast. Here are some suggestions to help you start your days off right.
Cereal: Whole grains help fill you up faster and give you a good dose of energy to start the day. Instant oatmeal and other quick fixes work well, but whenever possible, go for whole grain or quick-cooking kinds–they're less likely to have preservatives and will also help with digestion. Add some low-fat milk and fresh fruit to satisfy your sweet tooth without the calories.
Eggs: If you're more into savory breakfasts, an omelette or breakfast casserole can be a good choice–as long as you watch your portions and fillings. Fresh vegetables such as mushrooms, tomatoes and zucchini are your best bet–they're loaded with nutrients and fiber, which keeps you full until lunch time. Use no more than two eggs per omelette; any more and you drive up the calorie count.
Toast: Take two slices of whole-grain bread, put them on the grill, and jazz them up with a healthy spread (low-fat dairy or cottage cheese works well). If you like it sweet, use jam or honey, but make sure to choose a natural, low-sugar kind. This goes great with a cup of tea or coffee, plus some sliced fresh fruit on the side.
Yogurt: This is a great way to get your daily dose of calcium, especially if you want a break from the usual glass of milk. It's also been proven to aid in weight loss. Choose from a wide range of low-fat yogurts, from plain to vanilla to a variety of fruits and berries. Add it to a bowl of fruit for a guilt-free breakfast salad, or pour some over your bowl of cereal.
Homemade muffins: Store-bought muffins tend to be loaded with fat and sugar, but you can easily make your own at home and control your portions. Using whole-wheat flour and adding bran or whole-wheat cereals can make them more satisfying and less calorie-rich. For added flavour, throw in some dried cranberries or blueberries, or any fruit of your choice.
Comments are closed.